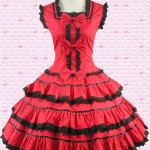 Red Multi Tiers Lolita Dress
$43.99
Red Multi Tiers Lolita Dress on sale at FTCline.com now! Was:$158.38, Now:$43.99, 72% Off
Processing Time: 8-15 Business Days.
Shipping Time: 3-8 Business Days.
cheap sweet cotton lolita dresses, sexy strapless lolita dresses, gothic lolita dresses, discount long sleeves lolita dresses, ruffles lace lolita dresses, discount lolita dresses for wholesale from ftcline.com
Similar Items
White Long Sleeves Blouse And Black Lolita SkirtThis kind of lolita dress features its white long sleeves blouse with botton decorated on the front chest, black pinafore skirt.This price includes the blouse, skirt and underskirt.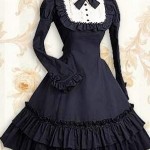 Deep Blue Long Sleeves Ruffle Lolita DressThis dress features its two tiers of ruffles above the hem.A bow tie adorns the front dress.The price includes the dress and the underskirt.