As we are getting more and more electronic gadgets of various models, we have to keep different power adapters with different USB ports for home, office or travelling use. For this reason, many people are often upset about tangled cable mess. Sometimes it becomes a total headache as we fail to find the right power adapter to charge for a certain gadget. Also, it is quite frustrating that when we need to charge the power for various models simultaneously, there are not enough sockets to do the job. Then, the following car USB power adapter with 10-in-1 USB ports and cables could be a good solution.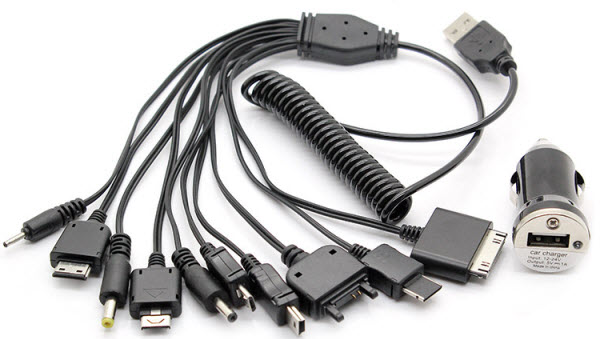 I happened to see this product at Fasttech.com, a tested online electronic store based in China. Before then I hadn't known the problem could be solved so easily. I purchased one immediately from Taobao, the biggest Chinese domestic online shopping place and it costs equally little. At Fasttech.com, it is available at only $3.55 plus free shipping to most destinations around the world. After investigation, I realize that such products are actually very popular and can be bought at almost all Chinese international gadget shopping sites.
As for my personal user experience, the biggest advantage of such novelty power adapter is definitely about the convenience. It helps me well manage my gadgets when they are being charged and I no longer have to check the charging status of different gadgets by running into different corners of my apartment. Likewise, I don't need to fret about not having more spare USB ports to charge for different electronic devices at the same time when driving a car. It is so practical that I just can't help sharing it.
The multi-USB-port car power adapter for sale at Fasttech.com, in particular, suits iPod, PSP and different models of mobile phones. The site also carries a range of other similar products, which may have different USB ports or have less USB cables. This one seems to have the biggest number of USB ports and cables. Of course, you can also find the same or similar adapter at other popular China electronic gadget stores such as Focalprice.com, Banggood.com, Dx.com, Ahappydeal.com or Everbuying.com.
The quality standards for the made-in-China car power adapter with several USB ports should differ little in terms of quality standards. As a low-tech but creative product, it is easy to manufacture and requires little cost. So if you need such item, just compare the prices listed at reliable Chinese shops and choose the best deal.