It could be quite tricky to peel a pineapple for many people. For this reason, some choose not to buy pineapple to avoid the hassle. Anyway, the stainless steel pineapple peeler can breezily help solve this problem. If you love pineapple but hate peeling pineapples with a common fruit knife, read on to learn about the details.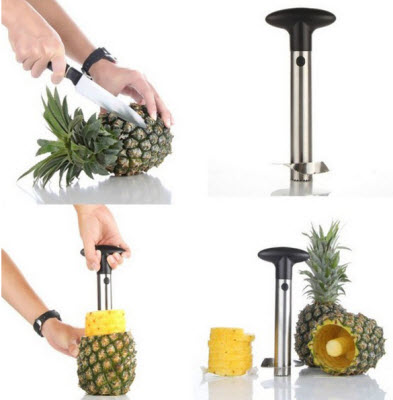 It is simple and easy to use the stainless peeler to remove the pineapple body from the core and the shell. After cutting away the head of the pineapple, spin the peeler into the pineapple body, then slowly screw to the bottom and finally hand out the whole pineapple body. You will get a nicely peeled long pineapple slice neatly shaped in rings! Just in about 30 seconds, you can get the pineapple peeled in a perfect condition without causing any mess. Click here to see more details about the novelty fruit peeler.
As a person who loves cooking, I am very sensitive to helpful gadgets to help making meals easier. I happened to spot the stainless pineapple cutter or peeler at Banggood.com, a famous Guangzhou-based online international shopping site offering lots of cool gadgets. Before I realized that peeling pineapple can be so easy, I always stopped picking pineapples at the fruit stores no matter how much I love them. Sometimes I even feel a little bit guilty thinking that my kids can not enjoy such delicious fruit because their mother hates peeling pineapples. Now this problem has been perfectly solved and I can even use the peeled-out pineapple shells to make yummy pineapple rice for my family. That's really cool!