If you are running a jewelry store and want to source such products from online Chinese suppliers, DHgate.com and Aliexpress.com are definitely the best choices. In China, there are countless online shops selling jewelry to international buyers but no one can exceed DHgate or Aliexpress in this field. Here are the major reasons why I strongly recommend buyers to use the two sites to source made-in-China fashion jewelry: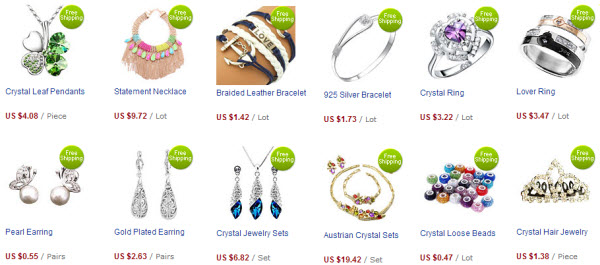 Super deals on wholesale jewelry at DHgate.com
1. Most China-base stores offer retail prices for the jewelry they carry, which are usually higher, while DHgate.com and Aliexpress.com are wholesale trading platforms where all products are offered with different wholesale prices based on order volume. Besides, since there are numerous sellers, suppliers or manufacturers selling jewelry at either site, they are more likely to set competitive prices for the same or similar styles in order to attract buyers.
2. The jewelry listed at the majority of Chinese shops tends to be very limited in terms of style options while at DHgate.com or Aliexpress.com, you can choose from tons of jewelry products to fill your inventory. The jewelry category of DHgate.com, for instance, includes around 800, 000 items!
3. DHgate.com and Aliexpress.com are the most famous wholesale international shopping sites for small and medium-sized merchants. As legitimate big companies, they are capable of providing better services to ensure you a safe and pleasant shopping experience. Compared to the small players in this industry, their incredibility is better tested. In addition, backed by powerful investors and technical teams, they are able to improve their service standards and shopping system and constantly.
Both of the sites run in the same way: they receive payments from the buyers for the order they make at their site and release the payments to the sellers until the buyers confirm that they have received the goods. They call it "payment protection service". When a dispute is incurred in a transaction between a seller and a buyer, you can resort to the service people of DHgate.com or Aliexpress.com to help resolve the problem. This service assures you that you can be confident in trading with any sellers at their platforms and you don't need to worry about being scammed as you can take your money back in that case.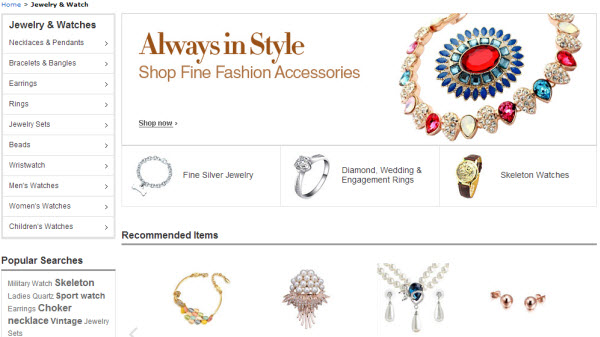 Cheap wholesale jewelry at Aliexpress.com
Though there are several trusted retail shopping websites based in China also worth checking out for stylish jewelry, e.g. Lightinthebox.com or Milanoo.com, I still encourage you to go for DHgate.com or Aliexpress.com first. Just as mentioned above, the two sites mainly stand out by super competitive wholesale pricing and unbeatable varieties of jewelry styles. However, when you shop at such transaction platforms, you should especially pay attention to the following aspects in order to avoid any troubles:
1. Always check the feedback scores and real customer reviews of the sellers you are interested in.
2. Contact the sellers for all the details or concerns about the products or services they provide via the messaging or live chat system of the trading websites. All communication records will be automatically stored by the websites and you may need to use them as valid evidence to support your claim in the case of disputes.
3. Never bypass the transaction platforms to accept the so called "better deals" or "lower prices" offered privately by the sellers or. Likewise, don't make the payment outside of the website checkout system. Otherwise, you may be scammed by dishonest sellers and the websites will then have no way to help you out.
4. Read carefully the dispute policies of DHgate.com or Aliexpress.com before you trade with any sellers. When a dispute comes out, do remember to follow the policies and timeframes to get your case resolved. The basic principal you should bear in mind is: you should always let the dispute team of DHgate or Aliexpress supervise the whole process of dealing with a dispute between you and the seller. Don't trust the words of the sellers to remove or to change the negative feedback without official agreements under supervision of the transaction service providing websites.