If you are running a jewelry store and want to source such products from online Chinese suppliers, DHgate.com and Aliexpress.com are definitely the best choices. In China, there are countless online shops selling jewelry to international buyers but no one can exceed DHgate or Aliexpress in this field. Here are the major reasons why I strongly recommend buyers to use the two sites to source made-in-China fashion jewelry: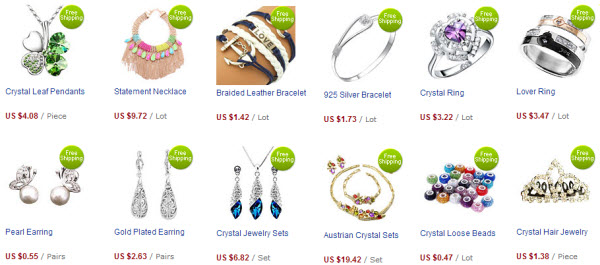 Super deals on wholesale jewelry at DHgate.com
1. Most China-base stores offer retail prices for the jewelry they carry, which are usually higher, while DHgate.com and Aliexpress.com are wholesale trading platforms where all products are offered with different wholesale prices based on order volume. Besides, since there are numerous sellers, suppliers or manufacturers selling jewelry at either site, they are more likely to set competitive prices for the same or similar styles in order to attract buyers.
2. The jewelry listed at the majority of Chinese shops tends to be very limited in terms of style options while at DHgate.com or Aliexpress.com, you can choose from tons of jewelry products to fill your inventory. The jewelry category of DHgate.com, for instance, includes around 800, 000 items!
3. DHgate.com and Aliexpress.com are the most famous wholesale international shopping sites for small and medium-sized merchants. As legitimate big companies, they are capable of providing better services to ensure you a safe and pleasant shopping experience. Compared to the small players in this industry, their incredibility is better tested. In addition, backed by powerful investors and technical teams, they are able to improve their service standards and shopping system and constantly.